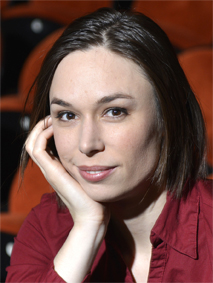 CARINE SECHAYE mezzosoprano


2019/2020
Jan-Feb 2020: Anthea, Antibes, Dorabella / Cosi' fan tutte
Jan 2020: Opera Nice, Dorabella / Cosi' fan tutte
Dec 2019-Mar 2020: Theater St. Gallen, Orest / Die schone Helena

2018/2019
Sept-Oct 2019: Opera de Lausanne, La Muse/Nicklausse / Dido and Aeneas
Apr-Jun 2019: Theater Orchester Biel-Solothurn, Dido / Dido And Aeneas
Feb-Mar 2019: Gran-Théatre de Genève, Wellgunde / Gotterdammerung
Feb-Mar 2019: Gran-Théatre de Genève, Wellgunde / Das Rheingold
Dec 2018-Jan 2019: Opéra de Marseille, Annina / Traviata
Sep 2018: Gran-Théatre de Genève, Mercedes / Carmen

2017
May 2017: Opera de Marseille, Tebaldo / Don Carlo
Opera Biel-Solothurn, Charlotte / Werther

2015/2016
September-October 2015: Opéra de Metz and Reims, Stephano / Roméo et Juliette
May-June 2016: Opéra de Lausanne with Siebel / Faust / Gounod
2014/2015
June 2014: Opera de Chambre de Geneve, Madama Laura/
Li due Baroni di Rocca Azzurra of D. Cimarosa
October 2014: Opéra de Tours for Dorabella / Cosi fan tutte / Mozart
November 2014: Opéra de Monte-Carlo for Stefano / Roméo et Juliette / Gounod
January 2015:Nantes, Angers, Rennes, Le Mans for Boulotte / Barbe-bleue / Offenbach
1st of February 2015: Concert in Victoria Hall Genève
March - 12th of June 2015: Carmen with Biel Solothurn Opera (15 performances)
June - July 2015: Festival Avanches, Berta in Barbiere di Siviglia
Carine Séchaye was born in Geneva where she obtained her diplomas in both singing and acting at the Conservatoire. She then took further training at the International Opera Studio in Zürich.
She received several awards: the Friedl Wahl, Migros/Ernst Goehner, Leenaards and fondation des Saints Anges (Paris) scholarships and prizes at international singing competitions including Voix d'or (3rd prize), Ernst Haefliger ('best swiss candidate' prize), Placido Domingo's Operalia (Zarzuela prize) and the Toulouse Mélodie Française (2nd prize).
Carine's first professional engagements were made at Zurich and Lausanne: she sang Honora in Tom Jones by Philidor, available on CD and DVD from Dynamic, Cherubino, Mercédès (on a Japan tour) and the title role of Chat botté by X.Montsalvadge.
In Germany, she was Nancy (Albert Herring), Mélisande and sang with big success the role of Octavian (Rosenkavalier). In the Nederlands, she performed Orlovsky on a tour.
In France, Carine has performed several world premieres in Chatelet and in Montpellier. She also sang in Metz, in Toulouse, in Toulon (in Dorabella and Cherubino), in Rouen for her debuts in Rosine and in Dijon for the role of Smeraldine (The love for three oranges).
In Switzerland, she sang Flora (Traviata) in Avenches, Miss Lovett (Sweeney Todd) in Cernier, Sméraldine in Bern and sang in many concerts /recitals in Genève, Lausanne, Basel, Montreux, Neuchâtel...

At the Grand Theatre de Genève, she has been regularly invited: she was the Page (Salomé), Berta (Barbiere di Siviglia) under the baton of A. Zedda, 3.Magd (Elektra), 2e dame (Magic flute for children), Smeraldine and Bersi (Andrea Chenier). In mai 2012, she sang Frédéric (Mignon) alongside Sophie Koch et Diana Damrau.
At the beginning of 2012, Carine received much acclaim for her debut in the roles of l'enfant (L'enfant et les sortilèges) in Monte-Carlo, la Périchole in Limoges and in Siebel (Faust) in Metz. In december 2012, she made her debuts in the role of Sélysette (Ariane et Barbe-bleue) in Dijon. In the title role of l'Aiglon in Lausanne and in Tours (2013), the press noted unanimously her "extraordinary dramatic and vocal involvement".
In season 2013/2014: Hänsel in Lausanne, Mallika (Lakmé) in Metz, Mercédès (Carmen) in Compiègne and Lucilla (La scala di Seta, Rossini) in the théâtre des Champs-Elysées. In november 2013, she sang the Verdi's Requiem in Eglise de la Madeleine in Paris.